CSI MASTER FORMAT CATEGORIES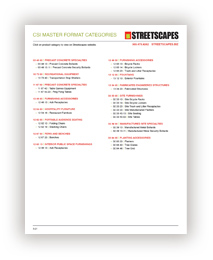 FAQs
Benches

Most benches seem to be 72" wide. Are other standard sizes available?

Yes, but it depends on the particular style of each bench and the manufacturer. Other common sizes are 48" W, 60" W or 96" W. Some benches are also designed to be ganged together to create a long run of seating. (While we're on the subject, some benches are also available with concave and convex radiuses.)

Can arms be added to benches shown without arms?

Is it possible to add a third or fourth arm to a bench?

Do you offer skate inhibitors?

On some products, they are available in pre-set locations. On other products, tell us where you want them. In addition, we've added "V" and other types of channel designs to precast benches as a deterrence.

If feasible, adding a crusher fine or rough aggregate zone around the bench or other object will also deter skateboarders.

What is the difference between a seat wall and a top seat wall bench?

We think of a seat wall as a modular precast concrete bench aligned in a continuous manner.

A top seat wall bench, on the other hand, is a bench with a seat frame that is affixed to the top of a wall or other structure.

Benches with backs and seats are usually static in nature. Are there benches available that allow the bench back to be rotated for a change of view?

Are modular benches available?

Yes, we offer a variety of benches that have been designed to accommodate a modular approach. Models are available in a variety of linear, curved and connector attached benches.

Benches can be produced using precast concrete, stainless steel and a host of others materials.

What is an LED bench?

An LED bench is a bench that incorporates LED lighting strips into the bench design, either under the seat or along the bench base. These benches are shipped with the lighting lens and power cable pre-assembled into the bench. The power cable is then connected to an electrical junction box and controller timing device.

What is a mini bench?

What is the difference between a bench and a seat bench?

A bench is usually defined as a seat with a back, although a bench can also be a bench without a back. We attempt to make the distinction between a bench with a back and without a back with the term "seat bench".

Bike Lockers

Bike Storage

Bike rooms are being added as an amenity for apartments, condominiums, offices and transit stations. Are there particular products available to accommodate bike storage and bike maintenance or repair?

Yes, there's an elaborate array of products available for bike storage rooms. There are standard bike racks, hanging vertical bike storage and high-density two-tier bike storage racks. The hanging bike storage racks are available in both horizontal and vertical models. The horizontal models are typically used in residential garages while the vertical models are used most frequently in multi-family bike rooms, offices and transit stations.

There are also sliding vertical racks used primarily by police and public safety bike bureaus for lost and stolen bike storage. There are also two-tier bike storage units used in spaces with high ceiling and where space is at a premium or there's a need to accommodate a large number of bikes.

Bollards

What is the difference between a bollard and a security bollard?

Can precast bollards be used as trail markers?

Yes, precast concrete bollards are commonly used as trail markers. The bollards used for this purpose tends to be larger in size. Text and images can be added to bollard via ink jet, silk screen or cast-in-place signs or symbols.

City Standard

What is a city standard?

A city standard is a bench, bike rack, trash can or other type of street furniture that is unique to a particular city.

Custom Fabrication

Do you have the capabilities to fabricate custom designed furniture?

Yes, most of our manufacturing partners can fabricate custom-designed furniture. However, there must be sufficient quantities of the product to offset the cost of molds or other specialized equipment that may be needed to fabricate the product.

To date, we have fabricated custom bike shelters, bus shelters, bike racks, oversized planters and precast concrete benches.

Can you fabricate custom designed bike racks or add logos or brand elements to bike racks?

Yes. Send us your artistic, logo or brand design bike rack ideas. We'll review with our design team for manufacturing. Once we confirm that we're able to produce, we'll send you a rendering of the design.

The cost of custom bikes is reasonable especially when large quantities are involved.

There's typically a price break at five, ten or twenty-five units.

Is it possible to add logos or commemorative plaques/plates to benches, trash cans and planters?

Yes. We can add a laser cut logo to most products. In addition, we offer metal plates and logo blanks for decals. If precast concrete furniture is involved, we can add inkjet or cast-in- place logos.
Cut Sheets, Finishes And Cad Drawings

Installation

Manufacturing Location

Manufacturing Partners

Materials

What is FRP?

Fiberglass Reinforced Plastic (FRP) is a strong composite. Casting is done by hand or with pneumatic chopper guns, using forms and molds. Once cast, the surface is prepped for painting by sanding and patching any imperfections with body filler. Each post is damp proofed with asphaltic sealant, then painted with industrial grade acrylic epoxy.

What is GFRC?

Glass Fiber Reinforced Concrete (GFRC) is four times more dense than wood. It is lightweight and incredibly strong. Alkaline resistant glass fibers replace tensioning rebar, which allows concrete to be cast in ½" - ¾" thickness for planters and site furnishings. The process uses a concentric system to spray concrete into purpose-built forms. After casting, the surface is treated to create many different finish options.

What are differences between Cumaru, Hellwood, Iroko or Jatoba wood?

HELLWOOD is European Ash that has been preserved to provide greater internal stability and to increases resistance to rotting. The result is wood that belongs in Durability Class I, just like the very best tropical wood.

IROKO is an African species of tropical hardwood. The color and characteristics of the wood are similar to Teak. Iroko wood turns grey as a consequence of exposure to sun and rain. Small cracks and crevices can also appear as part of this process. The wood should be treated with 100% natural oil wood protector to control the moisture level within the wood to help the planks stay stable for longer. The layer of oil also helps to prevent spilled liquids from being absorbed. It is recommended that the wood protector treatment occurs at regular intervals.

CUMARU is Brazilian or Golden Teak. It is a naturally durable Brazilian timber with a density similar to Ipe. Its consistent golden brown color and moderate cost make it an attractive alternate to more expensive hardwoods such as Teak or Ipe.

JATOBA is also known as Brazilian Cherry and is a popular imported wood. The wood is hard, heavy and tough. The grain is interlocked with a medium coarse texture and is a popular choice for furniture. The color ranges from russet to reddish brown often with dark stripes or streaks.

What's unique about 100% FSC Certified wood?

The Forest Stewardship Council (FSC) is a non-profit organization that sets high standards to ensure that forestry is practiced in an environmentally responsible and socially beneficial manner. "FSC Certified" means that the wood used in the product and the manufacturer that made it meet the requirement of the Forest Stewardship Council. FSC certification is the "gold standard" designation for wood harvested from forests that are responsibly managed, socially beneficial, environmentally conscious, and economically viable.

Experts recommend that one look for and request products with a FSC logo, which means the wood is traceable to a sustainably manager forest. Buying FSC-certified furniture helps support sustainable forest management, which reduces the emission of greenhouse gases and protect wildlife habitat.

FSC 100% - Products come from FSC-certified forests.
FSC recycled – The wood or paper in a product comes from reclaimed materials
FSC Mixed – A mix means that at least 70% of the wood in a product comes from FSC certified or recycled materials; while 30% is made of controlled wood.

What is PEFC?

The Programme for the Endorsement of Forest Certification (PEFC) is a leading global alliance of national forest certifications systems. As an international non-profit, non-governmental organization, it is dedicated to promoting sustainable forest management through independent third-party certification.

What is boulevard wood?

Boulevard is thermally modified North American hardwood. Hardwoods (typically ash) are treated at a high temperature (up to 375%). The natural process changes the chemical make-up of the wood, creating a gorgeous dark colored lumber with exceptional rot, pest and decay resistance. The cell structure of the wood changes during the process, helping to reduce moisture absorption and making Boulevard more resistant than other hardwoods to warp, twist and other movements. Technically, it shares a 25-year preserved wood-like durability level similar to South American hardwoods. The wood will weather to silver/gray unless sealed.

What's the difference between aluminum, wrought iron and steel?

ALUMINUM resists rust and moisture damage, and a powder coated finish will add additional protection against the elements. It is lightweight and easy to move. It requires little care and is easy to clean. It withstands rain, sunlight and extreme temperatures.

WROUGHT IRON is noted for its distinctive appearance, wind resistance, sturdiness and strength. It is heavier than aluminum and more vulnerable to the elements. It can be treated with weather resistant finishes than can seal out moisture and prevent rust. It can withstand sunlight and wind.

STEEL is lighter than wrought iron but heavier than aluminum. Steel provides strength, stability and endurance in extreme temperatures. Powder-coated finishes aid in rust resistance.
Its weight provides durable construction and provides a clean classical appearance.
It withstands rain, humidity and extreme temperature.

What is plastic lumber?

Plastic lumber can be made from many different virgin or waste plastics, most commonly polyvinyl chloride (PVC), high-density polyethylene (HDPE), acrylonitrile butadiene styrene (ABS) and polypropylene (PP). It is 100% composed of plastic and is therefore, 100% recyclable when the time comes to replace it.

Plastic lumber is lightweight and available in a wide range of colors. Plastic lumber is resistant to rot, mildew, mold, insects and stain. It never needs to be finished or refinished, sanded or sealed. It offers low maintenance.

Plastic lumber is expensive and can get very hot in sunny areas.

What is wood plastic composite lumber?

Wood plastic lumber comes in a variety of colors and finishes. It looks more like real wood and can be made of recycled materials. The boards won't stain or fade. It has excellent mold, mildew and insect resistance. It is low maintenance and won't split or splinter.

Parklets

What is a parklet?

Parklets began as a way to create temporary mini-parks in urban spaces by commandeering one or more car parking spaces. These mini-parks may include seating areas, dining spaces, bike parking spaces and almost anything else imaginable. Over time parklets have been shown to increase pedestrian traffic in neighborhoods, generate retail and restaurant sales and create neighborhood gathering places.

Communities are now deploying large scale parklets to expand dining space, public spaces and mini-parks in locations with limited outdoor public space. Previously, they have been custom, highly engineered projects. However, since their acceptance level has been so high, prefabricated versions are now available.
Planters

What is the difference between COR-TEN® and weathering steel?

COR-TEN® refers to a particular product. It refers to the specific properties of this type of steel: corrosion resistance and tensile strength.

WEATHERING STEEL is a generic term used to describe a product with similar properties.
It is typically used for custom round, square or rectangular planters.

Do you offer an irrigation system for plant containers, planter pots or flower boxes?

Yes, we offer a manual planter irrigation system. The system consists of water storage components and a dry soil sensor placed inside of planters before adding. The storage system is filled with water and the sensor is primed through a couple of watering cycles. Once primed, the sensor detects the dry soil and releases water from the storage components. Depending on the location, additional water is added to the storage units about once a month.

Precast Concrete

What is precast concrete?

Precast Concrete is a construction product produced by casting concrete in a reusable mold or "form," which is then cured in a controlled environment. Rebar is placed inside precast concrete to provide reinforcement, particularly when it comes to tensile strength.

Which finishes are commonly available for precast concrete furniture?

There are five common finishes usually available for precast concrete furniture:

SMOOTH – Shows the natural look of the concrete without trying to simulate any other building product.

EXPOSED AGGREGATE – Chemical retarders or water washing with a non-abrasive process that effectively brings out the full color, texture and beauty of coarse aggregate. The aggregate is not damaged or changed by this exposure method.

SAND BLASTING – Provides a smooth and exposed aggregate finish. This process is suitable for exposure of either large or small aggregates and is used when a light exposure is desired.

ACID ETCH – Surface cement paste is dissolved to reveal the sand with a small percentage of coarse aggregate being visible. It is often used for light or light-to-medium exposure.

POLISHED - The concrete surface is ground to produce a smooth, exposed-aggregate appearance. Polished exposed aggregate concrete surfaces are similar to polished natural stone, such as granite.

Can precast concrete be finished in a decorative stain?

Can precast concrete furniture be protected from water staining?

Can precast concrete furniture be protected against graffiti?

While precast concrete furniture cannot be completely protected against graffiti, it can be sealed with an anti-graffiti coating that will make clean-up easier. Graffiti tags must be removed immediately. You can't let graffiti sit for days. There are two types of anti-graffiti coatings:

SACRIFICIAL COATINGS are removed from the furniture, taking spray paint with them, when blasted with hot water from a pressure washer. Sacrificial coating can be silicone but are often wax based. After the graffiti-stained coating is peeled from the furniture, a fresh coated is applied.

NON-SACRIFICIAL COATINGS are usually epoxy, polyurethanes or urethanes that stand up to cleaning solvents. A cleaner should be strong enough to break up dyes of paint, but not strong enough to attack the permanent coating. Permanent coatings are more expensive to install but less expensive to maintain.

Quickship

Shelter Installation

Umbrellas

What is the difference between a center post and cantilever/side mount umbrellas?

CENTER POST umbrellas are commonly found in outdoor dining tables. The umbrella post is placed through umbrella hole in the table-top surface. The size of umbrellas used in this manner are usually small.

A CANTILEVER/SIDE MOUNT umbrella post is offset, so support is aligned to the outside edge of the umbrella. These umbrellas are usually large: 10 – 15 ft in width. Because of where the supports are placed, these umbrellas can be rotated throughout the day to maximize the shade potential in a given area. They are also used in combination to provide shade to a large area with minimal view obstruction.

What is the Beaufort Wind Scale and why is it associated with umbrellas?

According to the National Weather Service (NWS), the Beaufort Wind Scale was one of the first scales to estimate wind speeds and the effects. The scale begins at zero and goes to a force of 12. The scale is used to provide guidance on when umbrellas should be taken out of service due to wind speed. You wouldn't want umbrellas, especially center post umbrellas, blowing off a table.
RESOURCES